Omicron Variant BA.2 Should We Be Concerned?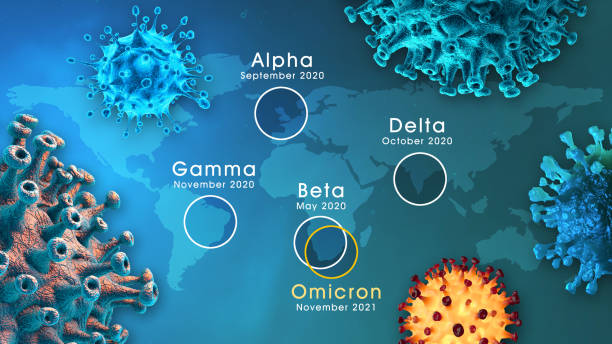 by Dr. Valerie Donaldson via Regenerative Medicine Center
What About Omicron BA.2 Subvariant?
BA.2, a new Omicron subvariant with unclear origin is becoming the predominant strain to cause Covid-19 infections in many areas of the world. It is approximated to make up 54.9% of all US cases as of last week.1
Some scientists believe all Omicron subvariants may have emerged at the same time. BA.1, the Omicron variant first reported in South Africa in November 2021, is thought to have caused the Covid-19 infection surge this past winter. With the rapid spread of the new subvariant BA.2 around the globe, many are wondering if this is cause for concern.
What do we know so far about new subvariant, BA.2?
Compared to the original version of the virus, the first Omicron subvariant (BA.1) has 39 mutations in the spike protein. BA.2 shares around 30 mutations with its predecessor and also has 8 additional unique mutations.2 BA.2 is referred to by some scientists as a "stealth" variant because it lacks a genetic signature, making it difficult to distinguish from the original Delta variant on PCR testing. Health experts say the new subvariant should still produce a positive result on testing.
Symptoms of BA.2
The symptoms of BA.2 appear to be similar to those already seen with many Covid-19 infections. At this time, distinguishing and unique symptoms of the new variant are unknown. The symptoms appear to be similar to those of BA.1 which include runny nose, fatigue, cough and nasal congestion.
Transmission, Hospitalizations, Deaths
While BA.2 is thought to be more transmissible than BA.1, it is not thought to be more virulent.3 A recent pre-print of a study out of South Africa showed there was no increased risk of hospitalization or severe disease from BA.1 compared to BA.2.4 Denmark was the first country to experience a quick takeover by BA.2. Supporting South Africa's findings, in a Denmark study, they state their "initial analysis shows no differences in hospitalisations for BA.2 compared to BA.1."5
Immunity to BA.2
Another recent study looking at reinfection suggests robust immune protection against BA.2 if someone had been previously infected with BA.1.6 Because of the initial Omicron surge across the world, a great percentage of people should have this robust protection. The World Health Organization stated, "real-world data on clinical severity from South Africa, the United Kingdom, and Denmark, where immunity from vaccination or natural infection is high: in this data, there was no reported difference in severity between BA.2 and BA.1."7
Treatments
While many experience mild to no symptoms with omicron variants, many are wondering if there are effective therapeutics to fight it.
A recent study out of Japan evaluated four different medications against omicron BA.1.8 The medications in the analysis included: Ivermectin, Lopinavir, Mpro 13b, and Pfizer's new oral drug Paxlovid, approved only under emergency use authorization. They concluded that while all of the drugs proved to be effective, "Ivermectin showed the best result…and may be the most effective drug candidate against the Omicron variant." Only time will tell how these therapeutics perform against BA.2.
Summary
Omicron subvariant BA.2 is rising across the world and is also rising in the US. The prevalence of BA.2 increased steadily from 39% two weeks ago to 54.9% last week. While there is still debate as to whether BA.2 will continue to surge in the US, protective immunity should be robust for a great majority of people. In theory, a surge in BA.2 cases should not lead to a surge in deaths and hospitalizations.
To help protect against any kind of infection, it is prudent to proactively take Vitamin D, Vitamin C, Zinc and Quercetin.
Have an awesome day.  Dr D
---
Reprinted with permission from Regenerative Medicine Center.